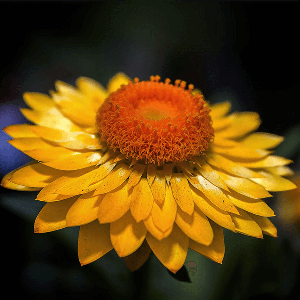 I came across Helichrysum when I was doing some research on DMSO. Dr. Stanley Jacobs, the founder of DMSO, mentioned that Helichrysum has been used to regenerate nerves within the ear and has restored hearing to those who were born deaf due to non-connecting nerves. He mentioned during the time of writing that article, that spinal cord nerve regeneration was still under going studies. Dr. Stanley Jacobs passed away at the age of 91 on January 17th, 2015. Unfortunately we won't be able to follow his progress on Helichrysum in the context of healing spinal cord nerves, but I don't doubt for a moment that it may help us SCI patients out.
So what is Helichrysum?
Helichrysum is a flower that has been used medicinally for thousands of years, originating from the Mediterranean. Helichrysum is referred to as "The Everlasting Flower" due to it's rejuvenating effects on the body. It compliments good skin tone and complexion and is used in a lot of anti-aging products for this reason. It's highly antimicrobial as well as has many anti-inflammatory effects on the body.
Helichrysum Benefits:
Nerve Regeneration
Allergies
Acne
Colds
Cough
Skin inflammation
Wound healing
Constipation
Indigestion and acid reflux
Liver diseases
Gallblader disorders
Inflammation of the muscles and joints
Infections
Candida
Insomnia
Stomachaches
Bloating