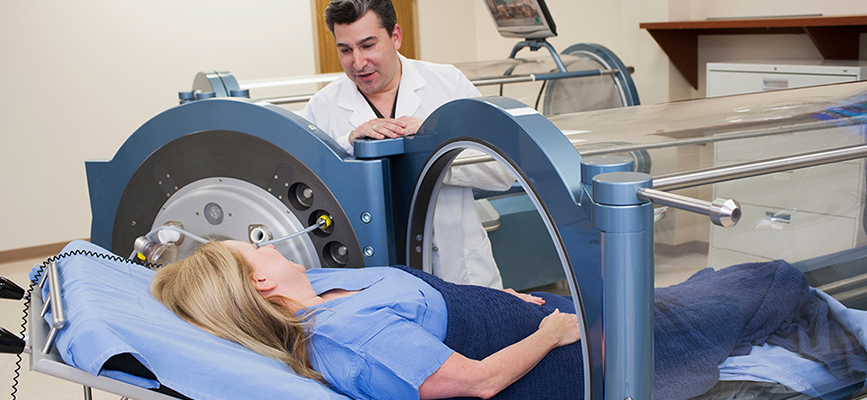 This study was published this month talking about the benefits of oxygenating the body with Hyperbaric Oxygen Therapy (HBOT) after experiencing a Spinal Cord Injury and the benefits associated with it.
This study mentions that if SCI patients are given Hyperbaric Oxygen Therapy, or put into Hyperbaric Chambers, an enclosed space with heightened levels of oxygen, within the first 3 months of their injury, their ASIA scores improved significantly. The American Spinal Injury Association (ASIA) created the standardized tests used as a universal classification tool for spinal cord injury based on sensory and motor assessment. Being classified as a level A through D are commonly used.
We may not all have access to hyperbaric oxygen therapy after our Spinal Cord Injuries, but we can take power into our own hands and engage in high intensity exercises to promote our cardiovascular system to pump higher levels of oxygen throughout our bodies. This is super important. The more muscle we have, the more our bodies will push oxygen rich blood around and help our bodies to heal.
When I was first injured in 2008 I was not aware of the healing benefits of herbs, fruits, vegetables and holistic health. At that time, I drank 2-3 protein shakes per day with L-Glutamine and BCAA's and thankfully because my arms were not affected, I lifted dumbells, did dips in my walker, did dips using the back of my bed or stairs, and did pull ups. Interestingly, I did not do pushups because I was scared my 5 way T11 to L3 back fusion would somehow break or something. I was highly anxious about that hardware being inside my body.
As you know by reading my website and social media, I am really into plant based holistic health, but I do believe there is a lot to be said about having muscle to create that secondary metabolism, working even while we sleep, and the exercise to move oxygen around at a much higer rate than if we sat idle. The crux of it all, being oxygenation. I hope my thoughts on this are helpful.
Abstract
Study design
A retrospective study of incomplete cervical spinal cord injury (SCI) treated with and without hyperbaric oxygen (HBO) therapy after operation.
Objective
To investigate the effects of hyperbaric oxygen therapy on patients' postoperative recovery after incomplete cervical spinal cord injury.
Setting
Shulan Hangzhou Hospital, Hangzhou, China.
Methods
We analyzed the clinical data of 78 patients admitted in the Orthopedic Department of our hospital from June 2014 to June 2016, due to trauma-induced incomplete cervical spinal cord injury. All study subjects underwent nerve decompression and internal fixation procedures within 2 weeks of injury. The patients were divided into hyperbaric oxygen therapy (HBO) group (n = 40) and non-hyperbaric oxygen therapy (NHBO) group (n = 38) according to the chosen treatment option. The NHBO group only receive the conventional treatment regimen while the HBO group received a combination of conventional treatment and hyperbaric oxygen therapy. The subsequent changes in spinal functions and activities of daily living (ADL) were assessed by The American Spinal Injury Association (ASIA) scale and the Barthel Index at different time points (pretreatment, 1 month and 3 months of treatment, as well as 6 months, 1 year, 2 years, and 3 years after the surgical procedure).
Results
There were no significant differences in age, gender, injury site, and disease condition between patients (p > 0.05). The results showed a significant difference in treatment total effectiveness rate between the HBO and NHBO groups (p < 0.05) (90% and 78.9%, respectively). Analyses of the ASIA scores and Barthel indices between the two groups indicated significant differences at 1 month and 3 months treatment time points, as well as 6 months and 1 year after the initial operation (p < 0.05). It showed that subjects in the HBO group had a better recovery than their NHBO counterparts, with the 1-month treatment time point being the most significant. In addition, the results indicated significant improvements in Barthel Index scores as well as ASIA sensory and motor function scores in both groups after a 1-month treatment, with the HBO group faring significantly better than the NHBO group (p < 0.01).
Conclusions
Our results not only showed that hyperbaric oxygen therapy is safe and effective for the treatment of incomplete cervical spinal cord injury but also indicated that the longer the treatment lasts (therapy initiation within 3 months after the surgical operation), the better the effects. In addition, a correct hyperbaric oxygen therapy leads to a peak in recovery within the first postoperative 3 months and can effectively promote spinal cord functions, reduce the disabilities, and improve patients' quality of life.
The direct URL to the study is: